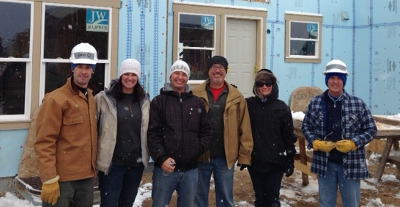 Photo of David Jones, Jill Curry, Adam Royval, Matthew Biscan, Hannah Fowler and Jerry Pratt and a huge thank you to James Gaspich, January Allen, Stacy Tarler, Walter Downing, Leigh Anderson, Susanne Rhodes, Laura Suelau, Toni Wehman, DJ Himstedt, Melissa Ogburn & Gregg Rich for all their help at the Habitat for Humanity construction site in Denver.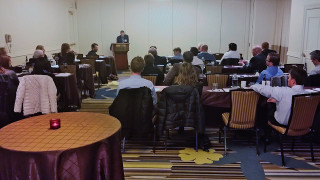 KEITH LAPUYADE of Wade Ash Woods Hill & Farley, P.C. presenting in front of his defense colleagues at the J.W. Marriott in Cherry Creek North on The Role of Personal Counsel. Thank you to Tanner Walls, CDLA YL Board Member for putting this ethic CLE together.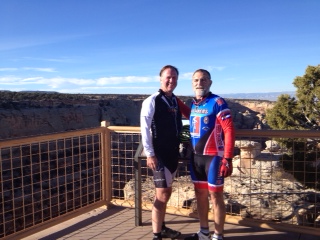 The CDLA Grand Junction mountain bike trip was a success! Yeulin and Steve Paul rode the Colorado National Monument – 35 miles, 2,650 feet of climbing, 2 hrs and 19 mins. The views were spectacular, here they are at Cold Shivers Point close to the top of the climb. Afterwards about 15 to 20 CDLA members, some past CDLA members, young attorneys and some locals congregated at a local watering hole, Naggy McGee's. In addition, District Court Judge Richard Gurley stopped and shared his judicial wisdom.
Officers
Jan Spies, President,
Spies, Powers & Robinson
Rob Jones, Vice President,
Paul Edwards & Associates
Kristin Caruso, Treasurer,
McElroy, Deutsch, Mulvaney & Carpenter
John Chase, Secretary,
Montgomery, Kolodny, Amatuzio & Dusbabek
Address
Bo Donegan, CPA
Executive Director
1485 South Elm Street
Denver, CO 80222
303-263-6466
Glenna Donegan
Marketing Manager
1485 South Elm Street
Denver, CO 80222
303-946-6659